Warning
: Illegal string offset 'script' in
/home/ourgre6/public_html/wp-content/plugins/wp-socializer/includes/wpsr-shortcodes.php
on line
92
Warning
: Illegal string offset 'script' in
/home/ourgre6/public_html/wp-content/plugins/wp-socializer/includes/wpsr-shortcodes.php
on line
72
Warning
: Illegal string offset 'script' in
/home/ourgre6/public_html/wp-content/plugins/wp-socializer/includes/wpsr-shortcodes.php
on line
85
Salted bread originated in Spain. It is a bread made with yeast, flour, eggs, and salt. It is a simple roll usually served for breakfast with toppings such as jam, cheese, peanut butter, bacon or sausage. It is terrific served up with a  cup of coffee or hot chocolate. Salted bread is usually round and chewy.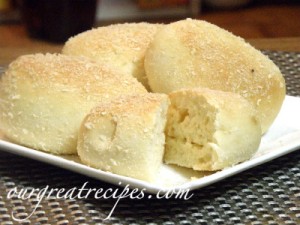 Ingredients:
4 cups all purpose flour, sifted
1/2 cup granulated sugar
1 tsp baking powder
1 1/2 cup fresh milk warm
1 tbsp vegetable oil
1 pc. fresh egg
1 tsp salt
5 tbsp. butter, melted
1 cup bread crumbs
2 tsp. active dry yeast
Servings:
Time:
Level:
Cuisine:
Add to favorites
Recipe Rating:
(5 / 5)
In a mixing bowl, combine warm milk, a teaspoon of sugar and yeast. Stir well to dissolve. Let stand until foamy about 5 minutes.

In a large mixing bowl, combine the dry ingredients. Starting with flour, then add sugar, salt and baking powder; Stir until well combined.

Add the egg, melted butter, vegetable oil, and yeast mixture. Mix together until dough is formed.

Transfer onto a flat surface with flour and knead until smooth, elastic and round. Put back in a mixing bowl, cover with a damp cloth or wrap with plastic; let stand in a warm place for an hour until the dough has doubled its volume.

Place the dough back onto a floured surface and slice into 4 equal pieces. Roll each piece into a cylinder shape; slice diagonally at least 3 inches diameter.

Dredge each piece in a bowl of breadcrumbs and arrange flat side down onto a greased baking sheet or pan. Cover the roll with a damped cloth for another 15 minutes.

Bake in a preheated oven at 375 degrees for about 30 minutes or until golden brown. Turn off oven and remove freshly baked hot bread. Serve with favorite cream.