Notice
: Undefined index: wp-favorite-posts in
/home/ourgre6/public_html/wp-content/plugins/wp-favorite-posts/wp-favorite-posts.php
on line
365
Warning
: Illegal string offset 'script' in
/home/ourgre6/public_html/wp-content/plugins/wp-socializer/includes/wpsr-shortcodes.php
on line
92
Notice
: Uninitialized string offset: 0 in
/home/ourgre6/public_html/wp-content/plugins/wp-socializer/includes/wpsr-shortcodes.php
on line
92
Warning
: Illegal string offset 'script' in
/home/ourgre6/public_html/wp-content/plugins/wp-socializer/includes/wpsr-shortcodes.php
on line
72
Notice
: Uninitialized string offset: 0 in
/home/ourgre6/public_html/wp-content/plugins/wp-socializer/includes/wpsr-shortcodes.php
on line
72
Warning
: Illegal string offset 'script' in
/home/ourgre6/public_html/wp-content/plugins/wp-socializer/includes/wpsr-shortcodes.php
on line
85
Notice
: Uninitialized string offset: 0 in
/home/ourgre6/public_html/wp-content/plugins/wp-socializer/includes/wpsr-shortcodes.php
on line
85
Notice
: Undefined index: img in
/home/ourgre6/public_html/wp-content/plugins/universal-star-rating/universal-star-rating.php
on line
128
Notice
: Undefined index: max in
/home/ourgre6/public_html/wp-content/plugins/universal-star-rating/universal-star-rating.php
on line
132
Notice
: Undefined index: text in
/home/ourgre6/public_html/wp-content/plugins/universal-star-rating/universal-star-rating.php
on line
136
Notice
: Undefined index: text in
/home/ourgre6/public_html/wp-content/plugins/universal-star-rating/universal-star-rating.php
on line
136
Roast Beef Spaghetti is an Italian dish composed of pasta, butter sauce, and pan-fried beef. It is an extremely popular meal and can be served as a family dinner in many exquisite dining restaurants. It is a basic recipe, but can become a little  complicated when preparing the sauce.
I have cooked this recipe and recommend being careful not to burn the butter and flour as it will create a bitter tasting sauce. Secondly, carefully measure the amount of butter used. Its not a smart idea to use too much butter.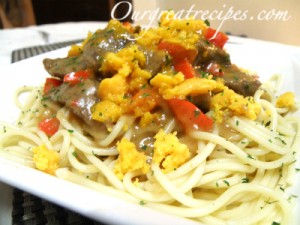 Ingredients:
200 g pasta noodles, blanched
1/2 kilo beef, sliced thinly
1 red bell pepper, diced
3 tbsp butter
2 cups chicken/beef stock
1/4 cup all purpose flour
1/4 cup grated cheese
2 tsp parsley
1 small onion chopped
3 cloves garlic minced
salt and pepper to taste
cooking oil
Servings:
Time:
Level:
Cuisine:
Add to favorites
Recipe Rating:
(5 / 5)
Rub salt around meat. Heat cooking oil in a pan and fry beef until outer parts turn light brown. Set aside.
Melt butter in skillet. Add in onion, garlic, bell pepper and saute until fragrant. Add flour little by little while continuously stirring until well dissolved and smooth in texture.
Pour in broth and allow to boil. Place in fried beef and simmer over low heat at least 15 minutes or until sauce thickens. Salt and pepper to taste. Turn off heat.
Pour the sauce all over the pasta; garnish with parsley and grated cheese. Serve with garlic bread.