This recipe includes instructions for making homemade pizza from scratch. Made with homemade dough, sauce, and a selected choice of ingredients, homemade pizza is delicious and affordable. Of course, making homemade pizza involves more time and effort, but the outcome is worth it. We were previously a fan of grabbing a pizza on a Friday night from a local pizzeria; but after creating this recipe, we certainly will not be returning there in the near future.
The entire process takes about 2 hours from start to finish, but as stated before it is well worth it. Without a doubt your friends and family will love this. Feel free to add your own ingredients and keep in mind homemade pizza is great for using up leftovers in the fridge.
After the entire process is finished, I love to sit back and relax with my homemade pizza and a drink. I sit down, fire up my computer, and begin another great activity. I Play a game of cheekybingo. Imagine a chance to win great sums of cash with a guaranteed jackpot every week. Cheekybingo and homemade pizza seem to go hand in hand.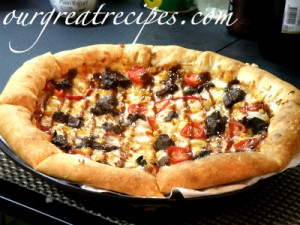 Ingredients:
For dough:
3 cups all purpose flour + 1/4 cup flour for dusting
2 tsp salt
1 pack or 2 tsp. of yeast
1 cup warm water 110 degrees
1 tsp. sugar
2 tbsp. olive oil
For sauce:
1 cup tomato sauce or puree
Mozzarella cheese, grated
Dried basil
garlic powder to taste
1/2 tsp. sugar
Salt and pepper to taste
Servings:
Time:
Level:
Cuisine:
Add to favorites
Recipe Rating:
(5 / 5)
Method:
Mix yeast with warm water at about 110 degrees. Stir and allow to rise in a warm place for at least 5 minutes or until foamy.

In a mixing bowl, combine flour, salt and sugar. Stir until well combined. Pour in olive oil and yeast mixture. Mix using hands or electric mixer until dough like. On a flat floured surface, knead the dough for 10 to 15 minutes until smooth texture is reached. Form into a ball shape.

Place the dough into a bowl with olive oil. Cover with plastic or damped cloth. Allow to sit in a warm place for at least an hour or until it doubles its volume. After an hour, punch the dough in the center to let the air escape. Form it into a ball again and cover with damped cloth. Allow to sit for another 30 minutes.

To make the sauce: In a mixing bowl combine, tomato sauce, garlic powder, sugar, basil, salt and pepper. Stir until well combined. Adjust the mixture according to taste.

After 30 minutes, place the dough onto a floured surface. Dredge dough in a bowl of flour and cover all sides. Flatten the center the of the dough using a rolling pin or by hand towards the edges. Make at least a 10 inch circle or any desired shape depending on the size and shape of pizza peel or tray.

Using a pizza peel or baking sheet, place in the rolled pizza dough. Allow to sit for 5 minutes and relax. Pour about 1 ladle of pizza sauce over and spread evenly in a circular motion. Top with mozzarella cheese and other prefer toppings. Brush the outside edges with olive oil, to prevent burning.

Bake in preheated oven at 475 degrees for about 20 minutes. Rotate pizza half way through to ensure the dough is not burned. Remove from oven and slice into serving pieces.

Enjoy your homemade pizza.
Quick notes
This recipe will make 2 large round pizzas or 3 square medium pan size pizzas.