Warning
: Illegal string offset 'script' in
/home/ourgre6/public_html/wp-content/plugins/wp-socializer/includes/wpsr-shortcodes.php
on line
92
Warning
: Illegal string offset 'script' in
/home/ourgre6/public_html/wp-content/plugins/wp-socializer/includes/wpsr-shortcodes.php
on line
72
Warning
: Illegal string offset 'script' in
/home/ourgre6/public_html/wp-content/plugins/wp-socializer/includes/wpsr-shortcodes.php
on line
85
Are you looking for a unique idea with a tortilla wrapper? Well, look no further. Try our ham, tomato, and lettuce tortilla. When topped with your favorite salsa and seasoned with pepper, this lunch idea is incredibly easy, fast, and healthy. This idea is perfect for the weight watching, calorie counter. As with any recipe, you can always make variations such as adding a slice of veggie cheese and some more spices. Who says you can't make lunch in under 2 minutes. As with any recipe, feel free to add any of your favorite additional toppings.
Ingredients:
1 Tortillia Wrapper
2 Slices of Tomato
1 Slice of Ham
2 tsp Salsa (mild or hot)
2 Medium Lettuce Leaves
Pepper to tase
Servings:
Time:
Level:
Cuisine:
Add to favorites
Recipe Rating:
(5 / 5)
1. Cut a tortillia wrapper in half. Place half a slice of ham on each half of the tortillia wrapper.
2. Put the lettuce and tomato over the top of the ham.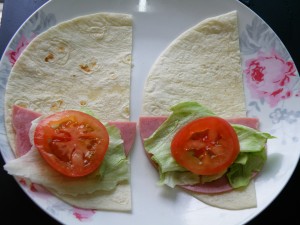 3. Spread the salsa over the vegetables.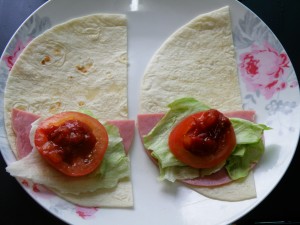 4. Season with salt and pepper
.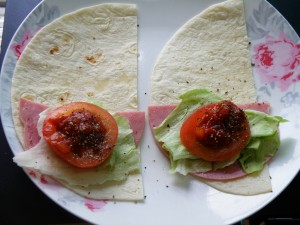 5. Fold the remaining, uncovered portion of the wrapper over the toppings.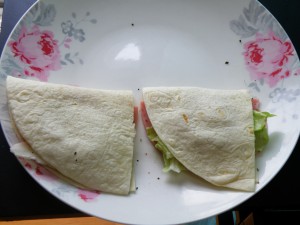 6. Enjoy!