Chicken Stir Fry with Vegetables consists of boneless chicken breasts and an variety of vegetables such as snow peas, green beans, and carrots. This dish is now famous all over the world because of its sweet and tasty oriental sauce. It originated in China along with other popular stir fried dishes.
To cook this easily, simply buy a pack of ready to cook stir-fried vegetables available in you local supermarkets. However, I prefer to cook it with fresh vegetables which I have personally prepared. The twist of a good chef is your personal touch on every dish. Of course, you also have to consider the preferences of your dinner guest. Again the homemade dinner rolls always add the touch to any dish. Don't forget you choice of wine. Again, as stated in all other chicken recipes, a safe choice with chicken is always a simple chardonnay. All your dinner guest will enjoy your chicken stir fry with vegetables.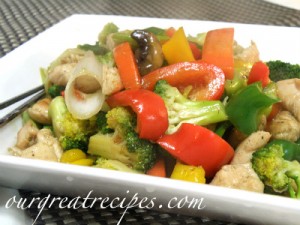 [wpsr_facebook][wpsr_pinterest][wpsr_stumbleupon][wpsr_linkedin][printfriendly]
Ingredients:
4 pcs. boneless chicken breast, diced
1/2 head broccoli, shredded
1/2 cup green beans or snow peas
1 small carrots cut in bite size.
1 red bell pepper, cut into cubes
1 tsp garlic powder.
2 tbsp oyster sauce.
1/2 cup chicken stock
1 tbsp cornstarch dissolved in 2 tbsp water.
cooking oil
salt and pepper to taste
Servings:
Time:
Level:
Cuisine:
[wpfp-link]
Recipe Rating:
[usr=5]
Method:
Put chicken in a bowl, rub with salt and garlic powder all over. Set aside.
In a sauce bowl, combine sugar, chicken stock and oyster sauce.
Heat cooking oil in wok. Fry chicken until outer parts turns light brown. Place all vegetables in a wok. Stir and fry for few minutes. Be careful not to overcooked the vegetables.
Pour in the prepared sauce and allow to boil. Add in diluted corn starch, simmer until sauce thickens.
Enjoy your chicken stir fry with vegetables!