Chicken Salad is made with fresh vegetables and noodles. The dish is more than  hundred years old and to my knowledge has changed very little over this time period. Its origins trace back to Rhode Island in the United States. It can be served as a side dish or main course. It is an excellent dish to serve in the summer time at a barbecue or any other social gathering. My preference is serving as a main dish accompanied by some fresh dinner rolls. The beauty of this dish is that you can add just about anything to it. This recipe, of course, is my personal preferences. It is light, health, easy to prepare, and incredibly delicious. Top your Chicken salad  up with your favorite mayonnaise, mustard, or simply a hard boiled egg.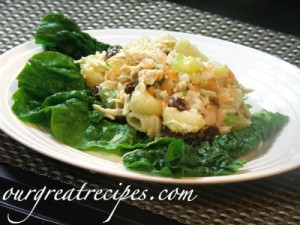 [wpsr_facebook][wpsr_pinterest][wpsr_stumbleupon][wpsr_linkedin][printfriendly]
Ingredients:
1/2 kilo chicken boiled and shredded
1 small carrot, finely chopped
1 small onion, finely chopped
1/4 cup scallions, diced
1/4 cup raisins
1/4 cup pineapple chunks
1/4 cup cooked macaroni noodles
Juice of 1 lemon
salt and pepper to taste
1 tbsp. olive oil
1/4 cup fresh mayonnaise
Servings:
Time:
Level:
Cuisine:
[wpfp-link]
Recipe Rating:
[usr=5]
Method:
Boil chicken in a pot for at least 20 minutes. Drain and shred into chunks or strips. Set aside in a mixing bowl.
Cook macaroni noodles according to package direction. Do not overcook noodles. Drain and set aside.
In a mixing bowl combine, boiled shredded chicken, pineapple chunks, carrots, onions, raisins, scallions, lemon extract, cooked macaroni noodles, olive oil and mayonnaise. Season with salt and pepper to taste. Gently mix until well combined.
Arrange fresh lettuce leaves on a platter. Place in chicken salad on top with slice tomatoes.