Warning
: Illegal string offset 'script' in
/home/ourgre6/public_html/wp-content/plugins/wp-socializer/includes/wpsr-shortcodes.php
on line
92
Warning
: Illegal string offset 'script' in
/home/ourgre6/public_html/wp-content/plugins/wp-socializer/includes/wpsr-shortcodes.php
on line
72
Warning
: Illegal string offset 'script' in
/home/ourgre6/public_html/wp-content/plugins/wp-socializer/includes/wpsr-shortcodes.php
on line
85
Cheese cake can be made with a variety of toppings such as jam or fresh fruit. It is rich, smooth and spongy. Cheese cake makes a delicious dessert or snack for friends and family.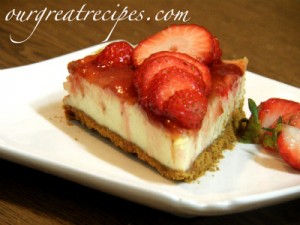 Ingredients:
1 and 1/4 cup graham crumbs
3 packs regular cream cheese
3/4 cup sugar
3 fresh eggs
1/4 cup melted butter
1 tsp vanilla extract
Zest of 1 small lemon
a bottle of cherry jam or strawberry jam
You will need:
9″ springform pan
Servings:
Time:
Level:
Cuisine:
Add to favorites
Recipe Rating:
(5 / 5)
Add graham crumbs in a bowl of melted butter. Mix until well incorporated. Place crumbs in a greased pan and spread evenly. Make sure the top is flat by pressing with palm or spatula.

Place creamed cheese in an electric mixer. Make sure cream is in room temperature. Mix until creamy.

Add in sugar, lemon zest, vanilla extract and egg one at a time. Mix until eggs are done and, mixture is well incorporated.

Pour the mixture over the top of the crust. Spread evenly until nice and smooth.

Bake in a preheated oven at 325 degrees at least 1 hour and 20 minutes or until inserted knife comes out clean.

Allow to cool at room temperature and let sit in the fridge over night.

Remove cake from the pan and spread with cherry jam on top. Top with blueberry or strawberry. Slice and serve on a platter.