Warning
: Illegal string offset 'script' in
/home/ourgre6/public_html/wp-content/plugins/wp-socializer/includes/wpsr-shortcodes.php
on line
92
Warning
: Illegal string offset 'script' in
/home/ourgre6/public_html/wp-content/plugins/wp-socializer/includes/wpsr-shortcodes.php
on line
72
Warning
: Illegal string offset 'script' in
/home/ourgre6/public_html/wp-content/plugins/wp-socializer/includes/wpsr-shortcodes.php
on line
85
Made with a combination of bread, wieners, and cheese, bread rolls make an excellent snack or finger food. They are usually deep fried, but baking is an option. Many other fillings of choice can be used, as well.   However, the most essential ingredient is bread crumbs; without this, they will easily burn.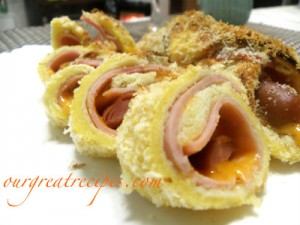 Ingredients:
5 pcs. loaf bread
2 eggs
3 pcs sausages or wieners, cut in half
1 cup bread crumbs
cheese sliced thinly
5 pieces smoked ham
vegetable oil
Servings:
Time:
Level:
Cuisine:
Add to favorites
Recipe Rating:
(5 / 5)
On a flat surface, flatten the loaf bread by using a rolling pin.
Arrange ham, sausages and cheese in the center of the loaf bread. Roll the bread and secure all edges by putting in a tooth pick.
Dip rolled bread in a bowl of beaten eggs. Make sure bread is fully covered with the egg.
Dredge bread in a bowl of bread crumbs; repeat procedure until all bread used.
Heat vegetable oil in a pan. Fry the rolled bread, over medium heat, until all sides browned. Drain excess oil in a paper towel. Alternatively bake in preheated oven at 350 degrees at least 20 minutes.
Serve on a platter and slice in serving pieces.
Enjoy your Bread roll!