Warning
: Illegal string offset 'script' in
/home/ourgre6/public_html/wp-content/plugins/wp-socializer/includes/wpsr-shortcodes.php
on line
92
Warning
: Illegal string offset 'script' in
/home/ourgre6/public_html/wp-content/plugins/wp-socializer/includes/wpsr-shortcodes.php
on line
72
Warning
: Illegal string offset 'script' in
/home/ourgre6/public_html/wp-content/plugins/wp-socializer/includes/wpsr-shortcodes.php
on line
85
Beef stroganoff (Befstróganov) is a flavorful beef stew, made with roasted beef chucks, button mushrooms, tossed with pasta, and topped with sour cream. This classic Russian dish is a great combination with wine and can be served as a family dinner. I always enjoy reading the history of any dish I cook. It seems to add something to the authentisity of the dish. There are several variations to this recipe such as using whipping cream, tomato sauce, and a topping of baked potatoes. The recipe calls for cooking wine. It is best made with a finer wine, but a less expensive wine can be used. However, even without wine it will still be a tasty dish.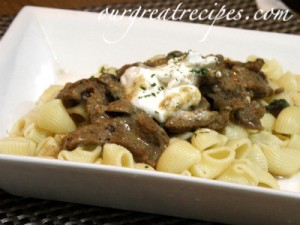 Ingredients:
1/2 kilo beef chucks, cut in strips
vegetable oil
3 tbsp. butter
1 small onion, chopped
2 cloves garlic, minced
4 tbsp. all purpose flour
1 cup beef broth
1/2 cup button mushrooms, sliced
3 tbsp cooking wine
1/2 cup sour cream
1 tbsp fresh sliced chives
1 tbsp vegetable oil
salt and pepper
Servings:
Time:
Level:
Cuisine:
Add to favorites
Recipe Rating:
(5 / 5)
Place beef in a bowl and sprinkle with salt and pepper. Mix thoroughly.
Heat vegetable oil in a pan. Place in beef and pan fry over medium heat until juices come out and it becomes light brown. Set aside.
Melt butter in the same pan. Add in button mushrooms and onion. Sprinkle with salt, saute until mushrooms turn brown, and onion is fragrant. Add in garlic and stir together for few minutes.
Sprinkle in flour and stir until nicely dissolved. Season with cooking wine. Pour in the beef broth. Stir constantly and bring to a boil.
After a boil, add the pan fried beef and simmer over low heat at least 45 minutes or until meat is tender. When meat is tender, add 1/4 cup of sour cream. Stir well, salt and pepper to taste.
Pour on a platter of cooked egg noodles or pasta. Top with other 1/4 cup of sour cream and a sprinkle of chives.
Enjoy your beef stroganoff!