Warning
: Illegal string offset 'script' in
/home/ourgre6/public_html/wp-content/plugins/wp-socializer/includes/wpsr-shortcodes.php
on line
92
Warning
: Illegal string offset 'script' in
/home/ourgre6/public_html/wp-content/plugins/wp-socializer/includes/wpsr-shortcodes.php
on line
72
Warning
: Illegal string offset 'script' in
/home/ourgre6/public_html/wp-content/plugins/wp-socializer/includes/wpsr-shortcodes.php
on line
85
Beef Chili is made with simple ingredients such as tomatoes, onions, and cubed beef. This  recipe falls into the fast and easy category. It differs from traditional chili as it uses whole chunks of beef as opposed to ground beef. It is ideal for anyone seeking an alternative to ground beef based dishes. The chunks can be cut as thin or thick as you like depending on your preferences. This is ideal for a cool day and makes a perfect beer match. As with many recipes, more vegetables can be added depending on your taste.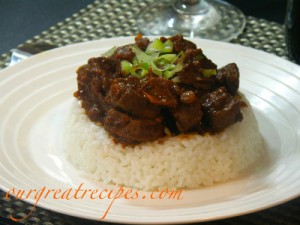 Ingredients:
1/2 kilo beef chuck cut in cubes
1 tbsp. vegetable oil or olive oil
1 medium can diced tomatoes
1 tbsp. chili powder
pinch of hot pepper flakes
salt and pepper
1 small onion, chopped
1/2 cup water
1 tsp. basil
2 tsp. paprika
1/2 tsp. cumin
1/2 tsp. lemon juice
1 tbsp. green onions finely chopped
 Servings:
Time:
Level:
Cuisine:
Add to favorites
Recipe Rating:
(5 / 5)
Heat oil in a pan. Pan fry beef over medium high heat until brown and set aside.
Heat oil in a separate pan. Saute onion until soft and fragrant. Add in chili powder, paprika, cumin, basil, hot pepper flakes, diced tomatoes and stir for a few minutes.
Put in pan-fried beef. Mix until beef is coated well with spices and all is well incorporated.
Pour in water and bring to a boil. Simmer over low heat for at least 40-45 minutes, until liquid, is half reduced and beef is tender.
When beef is tender, add lemon juice. Salt and pepper to taste.
Serve on a platter and garnish with chopped green onions.
Enjoy you beef chili!